If you're the type of person who thinks airline baggage fees are ridiculous, then do I have the jacket for you. I test-drove the SCOTTeVEST Tropiformer Jacket around Europe for 100 Nights of Summer. If you're now wondering how one layer helped me circumvent over $250 in airline fees, let me talk about the wonders of pockets, specifically lots and lots of pockets.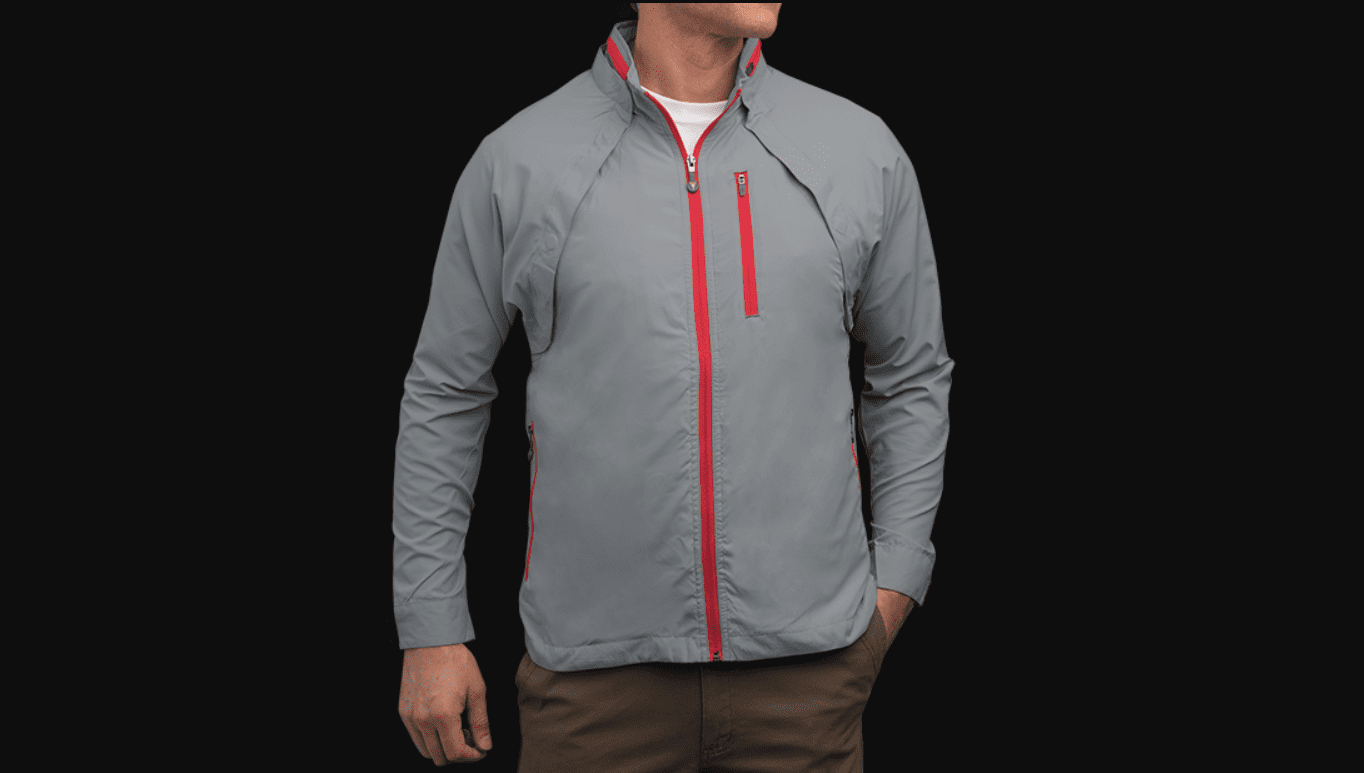 Wizard Robes For the Modern World
The Tropiformer is a lightweight convertible jacket that conveniently folds up into its own pocket when you're not using it. Here's the breakdown schematics of the Tropiformer, complete with 22 pouches, pockets, hidey-holes, and secrets. It's like a modern day incarnation of wizard robes, but less of a chance of being dinged for a security hassle.
How Did It Work in the Wild? 
Let's start with the gear I carried inside the coat. Anything in my 100 Nights of Summer kit that's small got stuffed into a pocket. My partial packing list included:
Cell phone charger
Laptop charger
DSLR Camera charger
Battery pack
Extra camera battery
50mm Nikon camera lens
GoPro Camera
Assorted adapters
Security cord for laptop
Sunglasses
Stack of business cards
Two stacks of Music Festival Wizard stickers
Headlamp
Tent stakes
Laptop mouse
Travel towel
With this many items bulking you up, the jacket doesn't come across as super low-profile, so I popped off the magnetic sleeves (more wizardry!) which converts the jacket into a vest in under two seconds. I then wore a flannel shirt over the whole get-up. Here's how I looked at the airport check-in desk minus my hair being butchered ten minutes before I took this photo.
You don't have to go as extreme as I did to take advantage of the pockets. The Tropiformer functions nicely as a light travel coat, with pockets for your passport, sunglasses, a small tablet, and whatever else you may need to quickly reach. For train and bus trips, I used it for easy access to my phone charger, ear plugs, and small snacks.
How Much Money Did You Save?
This may seem like quite a bit of work to save a few dollars,  but you may shocked to learn that "Music Festival Travel and Gear Expert" is not as lucrative of a job as I'd like it to be, so I'm squirreling away money wherever I can. I fly quite a bit and the only way to pick up those super cheap plane tickets in Europe is to cap your baggage limit to 11 pounds or less.
By not checking a bag, I saved around $30 per flight without sacrificing the gear I need to live, work, and camp at music festivals. I took nine flights over a 100 day period, so I estimate the Tropiformer saved me about $270.
What Didn't Work For Me
Waterproof Test:  It's just water resistant so the jacket held up fine in a light drizzle, but as expected, it soaked through in a couple of summertime downpours. I thought a summertime jacket would be fine for the warm weather, but if I'm going to keep covering festivals in Europe, I'll need a waterproof coat in the future.
The Sleeves: The detachable sleeves are magnetic, which sounds cooler in theory than in actual practice.  Also, people will mock your magnet sleeves at a music festival, and by people, I mean all your friends. The jacket does convert back and forth to a vest fairly quickly, but you may find the magnets sticking to your collar.
Sizing: I should have been in an extra-large, which would have been far more comfortable, but somehow this review jacket ended up in the back of my parent's closet, instead of my pile of "stuff I need to review", so it only made the cut for 100 Nights of Summer at the last minute. I recommend if you're interested in checking out SCOTTeVEST to take advantage of the 30-day return window to find your perfect fit.
Overall
Overall, this is a solid light weather coat. While I'm not sold on the Tropiformer for my specific type of traveling, I am now very much on board with travel pockets. Right now, I've got my eye an on their collection of hoodies and this travel underwear for hiding my valuables.