This DIY indie rock fest in the south of France is one my favorites of the early season. Think of Primavera Sound on a more intimate scale, but much less overwhelming and loads more manageable. The five stages are only moments apart and small enough that you'll have a prime spot to view your favorite bands.  
Day #11 of 100 Nights of Summer: Festival #2 of 15
"What type of music do you listen to?" I usually say indie rock, but it's such a broad definition, it's easier to just point out some of my favorite festivals. This is Not a Love Song in France is one of those fests, each year boasting a knockout lineup that I just can't miss — and I haven't. Let's get into the recap.
1. Running the Numbers
2. The Scene
3. Musical Highlights
4. Stray Observations
5. Travel Notes
6. Final Notes
Running the Numbers
This is Not a Love Song Stats:
Dates: June 1-3, 2018
Editions: 6
Attendance: 12,000
Artists: 50+
MFW Beer Index: €5.50
Highest Temperature: 28C (82F)
100 Nights of Summer Stats:
Days on the Road: 11
Countries Visited: 3
Festivals Attended: 2
Festival Days: 6
Festival Days w/rain: 4
Days Camping: 3
100 Nights of Summer Festival #2 2015: Copenhagen Distortion
100 Nights of Summer Festival #2 2016: NOS Primavera
100 Nights of Summer Festival #2 2017: This is Not a Love Song
The Scene
"It's just easy."
I was talking with a local about why we love the festival — the music, the atmosphere, the weather, but he really put it all together by saying "it's just easy", and I knew immediately what he meant. The hours are easy — the main bulk of music runs from six in the evening to around one in the morning. The transportation is easy — there's a bus from the city center straight to the event every thirty minutes. The festival grounds are easy — all five stages can be reached in under a couple minutes.
DIY Done Right
There's a lot of details that always impress me at TINALS, including composting toilets, harm reduction counseling, free ear plugs, a wandering choir, reusable cups, and local food trucks supplying the eats. The best idea that I've seen is that TINALS is free to the public for a couple hours in the afternoon, which lets everyone experience the fun of festivalling.
Art, Man
TINALS takes place at the Paloma, a bizarrely shaped concert hall on the edge of the city. Over the years, I've marveled at its geometry, first comparing it to a metallic turd, and then to a jawa crawler from Star Wars. I thought the structure was unique until I saw the Birmingham New Street train station in the UK which boasts a similar melting chocloate bar form, but in silver. They're multiplying.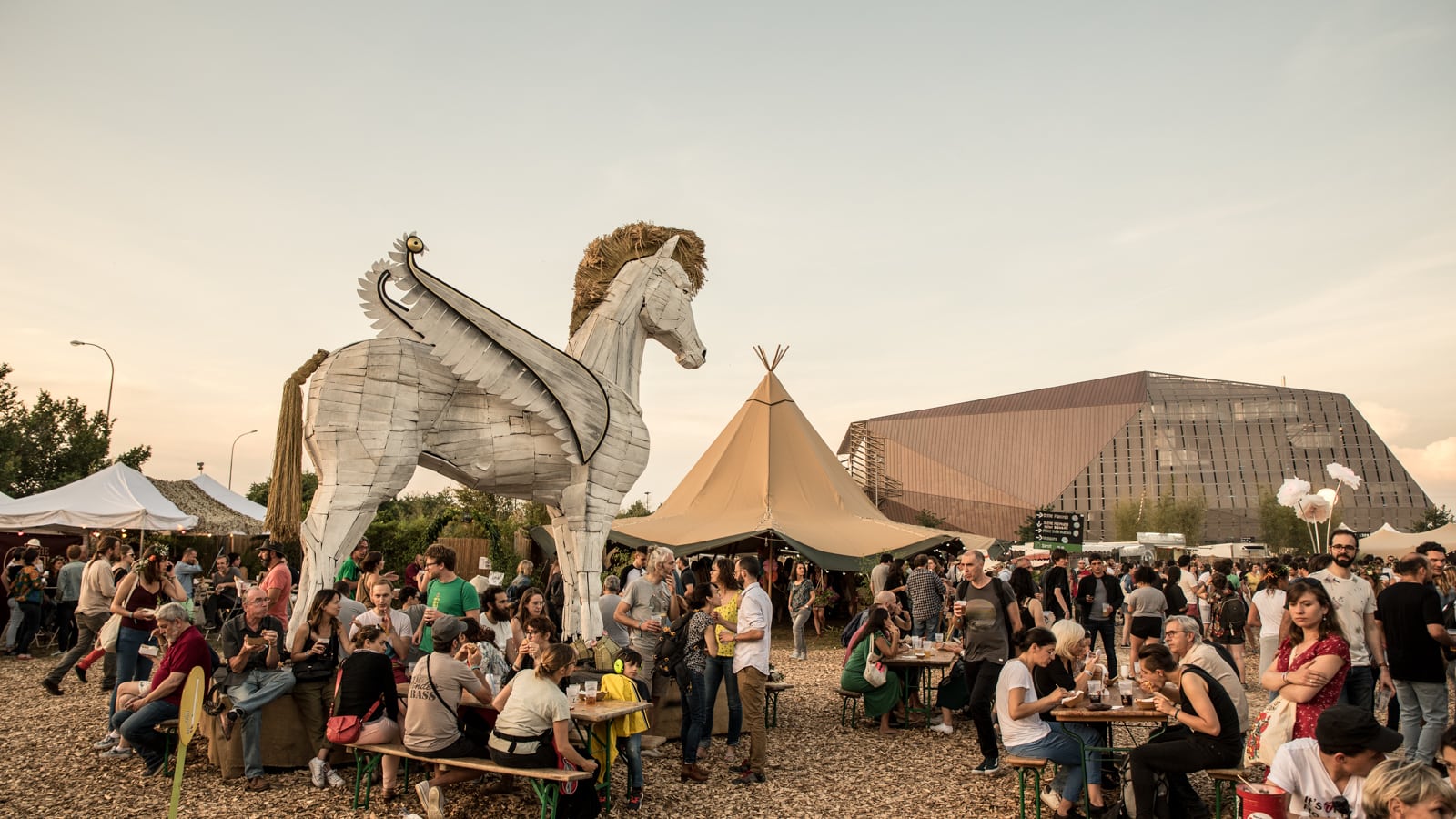 Music Highlights
Dead Cross
IDLES
Deerhunter
Cigarettes After Sex
Breeders
Beck
Phoenix
House Gospel Choir
Superorganism
Moaning
Jesus and Mary Chain
Father John Misty
Ty Segall & The Freedom Band
Sparks
Vince Staples
Moaning
Black Bones
Rhye
DYGL
Favorite Sets: I haven't seen Breeders since the mid-nineties when Lollapalooza was still a touring festival, so this was my "must-see" on Sunday. The Deal sisters are having an absolute ball on stage and even the lone sprinkling of rain couldn't dampen the enthusiasm of the gathered faithful.
One of the highlights of these European indie rock festivals is that they always showcase a full history of the genre from brand new bands to cult favorites from the seventies like Sparks, who played inside a packed auditorium hall.
Underground rock god Ty Segall is back on tour again this year, and this time is backed by the Freedom Band. The act is more stripped down than recent years, forgoing the baby masks and crowd work with Ty just rocking it out.
I saw Beck at Governor's Ball during his alt-country phase, and while I can appreciate an artist pushing their boundaries, I would not mind them slipping in a hit or two. Beck seems to have psychically picked up on my recommendations, putting together a dance-happy hour of fun, even slipping in Loser. Beck didn't want photographers taking his picture so here's a shot from a friend's cell phone.
IDLES remain one of the stand-out UK acts of the past couple years. A French kid dancing so hard that he might bounce out of his skin, asked me "Who are these guys? I love them!"* I agree, random French kid.
*Between the screaming of IDLES, the screaming crowd, and my terrible French, this is a best guess quote.
Phoenix are French rock royalty, so no surprise that they were headlining Saturday night to a fully appreciative crowd. They are solid festival performers, no matter the country. Here's the lead singer taking a stroll across the audience.
Dead Cross with Mike Patton screaming his lungs out was very, very, very loud.
Stray Observations
What's Going on Here? 
I'm usually an inquisitive person, not shy about asking questions, but sometimes I just snap photos without any follow up questions. This weekend-long ceremony taking place next to the main stage was one of those times.
TINALS Loves a Good Surf
From the bands to the crowd, there's always someone diving into the crowd.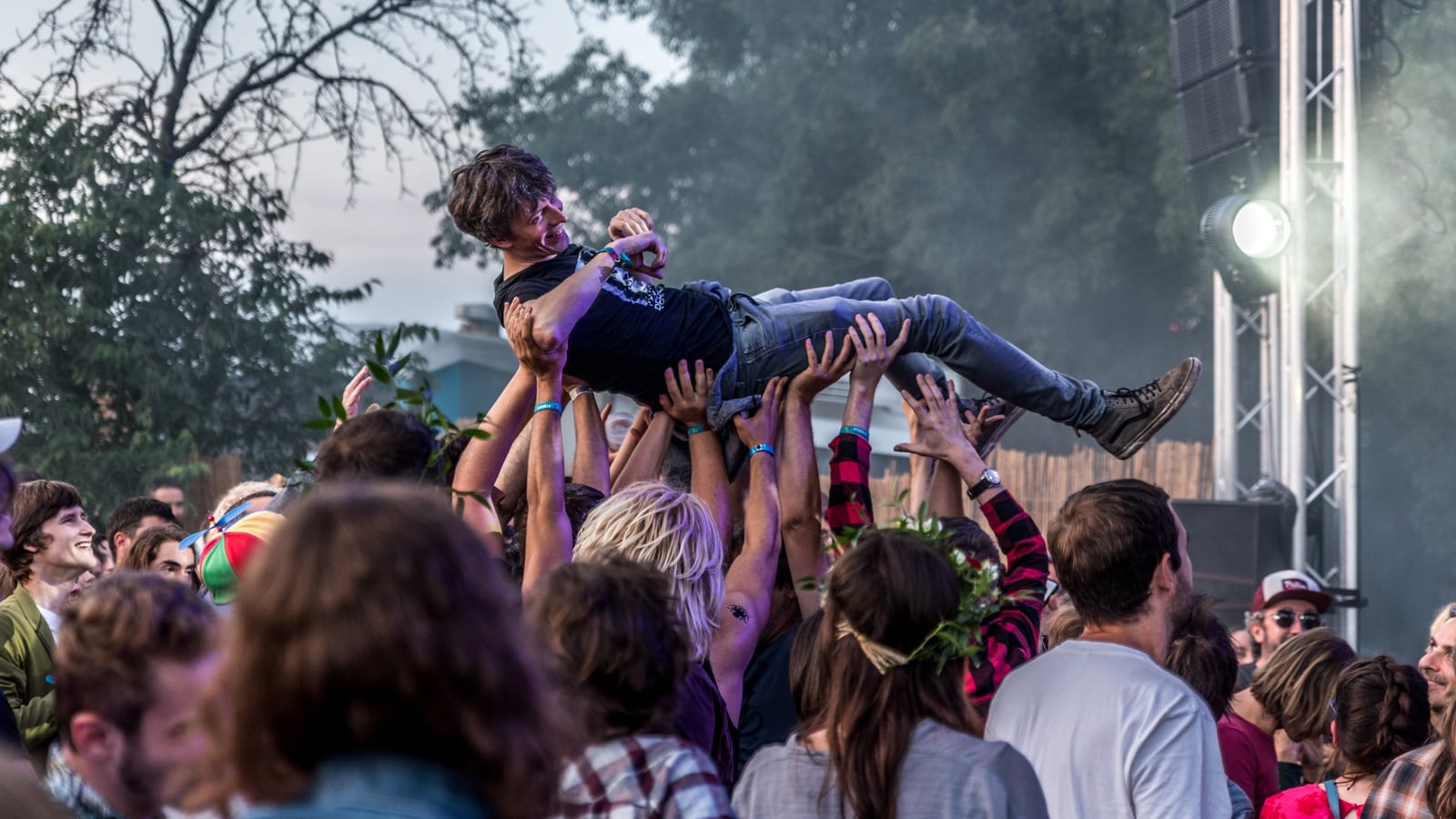 Return of the Turbojugend
There's a band called Turbonegro that's so popular it has spawned fan clubs all over Europe with rules like the lead singer's birthday is a compulsory holiday, you must never wash your official Turbojugend jean jacket (Febreze is okay), and an event has to be organized every 77 days. I ran into this crew last year when Turbonegro brought down the indoor hall with a monstrous set and I was happy to see a smaller contingent returned this year for all the glorious punk and metal of TINALS.
From My Ongoing Series: French Festies in Black and White
Travel Notes
Where Did You Sleep?
Every year I claim that I will camp at TINALS, but the city is so comfortable and affordable I always end up staying downtown like some sort of festival baller. This year, I posted up with an economy single room at Parc Arena ($34 USD/night), a place so nondescript that I forgot to take photos.  Airbnb has plenty of rooms as well, but my experiences have been very hit or miss.
How Did You Get There?
The Nimes airport is comically tiny, but I did manage to find a flight on RyanAir from Luton Airport outside of London direct to Nimes for only $19 USD. Other airports with more options include flying to Marseille (2 hours) or Barcelona (5 hours), and transferring to Nimes with the excellent FlixBus. Nimes is also well connected by France's excellent train system — when it isn't on strike, which it will be, because it's the French train system.
How Did You Get Around?
Nimes is well covered with their local bus system and a round-trip ticket to the festival will only cost you $3.00 USD. The city center is small enough that you can reach most of the sites by walking.
Final Thoughts
The sun is warm, the beer is cold, and the lineup is a music lover's dream. What more do you need from a festival? TINALS has grown into one of the best indie rock festivals in Europe over the last half decade and  you can expect it to continue to shine.