Day #89: Festival #12
The next leg of the 100 Nights of Summer expedition sees me off to the United Kingdom for a triple bill sampler of England, Scotland, and Wales. First up on the docket is the absolutely legendary Leeds Festival. This sister spin-off of the even larger Reading Festival takes place on the same weekend with the exact same lineup.
Running the Numbers
Leeds Festival Stats
Dates: August 25-27, 2017
Editions: 18
Attendance: 90,000
Artists: 240+
MFW Beer Index: €5.61
Lowest Temperature: 10C (50F)
12th Festival Stop 2015: Sziget
12th Festival Stop 2016: FM4 Frequency
100 Nights of Summer Stats:
Days on the Road: 89
Countries Visited: 14 
Festivals Attended: 12
Festival Days: 39
Festival Days w/Rain: 6
Days Camping: 21
The Scene
The Layout of Leeds
For such a massive festival, Leeds is surprisingly compact. The main stage anchors one end of the festival grounds with the audience on a gently sloping hill that guarantees views of the headlining sets. The other stages are massive circus tents, which both act as a muffler against traveling sound, and provide a respite from the omnipresent rain showers that plague the UK.
Party With a Plan
Leeds is stuffed with so much music into three short days that I recommend you have a plan of attack. Sets are short and sweet, barely clocking in at forty minutes for some of the acts, so don't show up late. Or you can just skip everything, bring a blanket, and spend the entire day camped out at the main stage. Or you can just take a page from the British playbook — get blackout drunk and time travel through the festival.
Where Did You Sleep?
Leeds is a camping festival and I found myself perched on top of a gently rolling hill. I suppose it's possible to stay in the city of Leeds and bus back and forth each day, but be prepared for a trek, as it takes about forty-five minutes in each direction to get from the city center to the festival grounds.
Musical Highlights
Friday (Bands Seen In Order of My Enjoyment)
HAIM
Phantogram
The Pretty Boys
Charlie XCX
Picture This
Muse
Gnarwolves
Marshmello
Breaking Benjmain
Best Set of the Day: HAIM
I've seen HAIM now three times this summer (Primavera, Tinderbox, and Leeds), and they always put on a spirited and fun show. They have also become one of my favorite artists to photograph.
Surprise Set of the Day: Phantogram
This is what I love about festivals – when you just wander in to see what a band is like and completely fall in love with them. Really compelling set from Phantogram.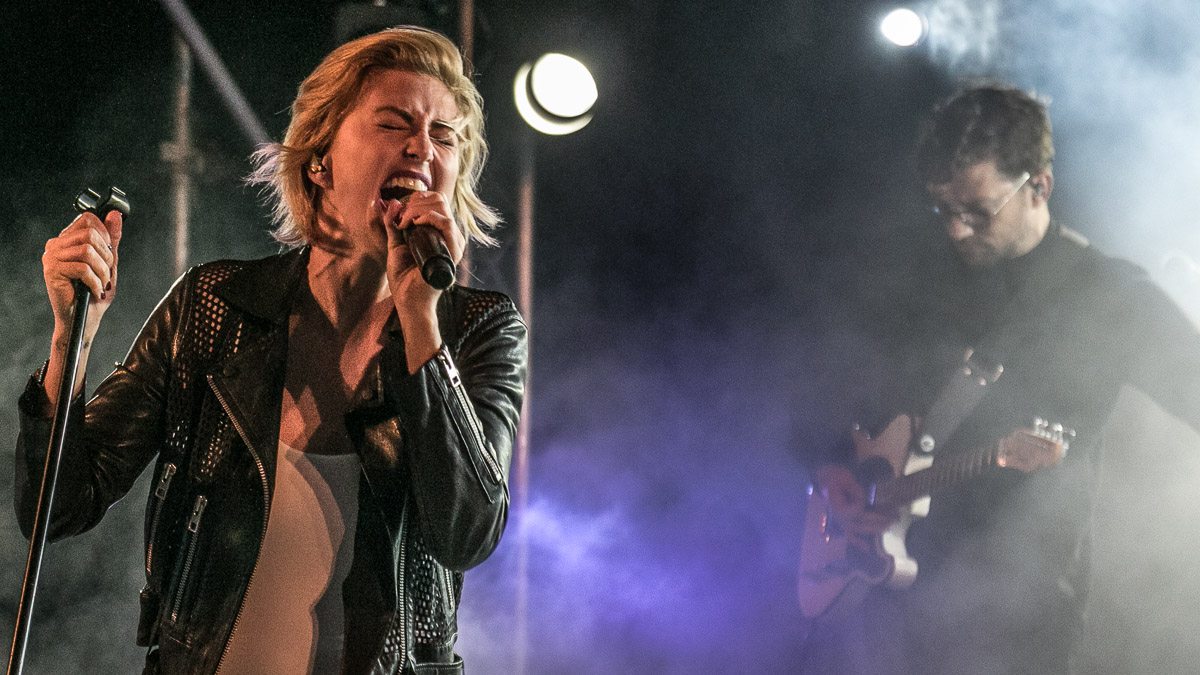 Friday (Bands Seen In Order of My Enjoyment)
IDLES
The Districts
The Big Moon
Rubber Bandits
Two Door Cinema Club
Cigarettes and Sex
Billy Talent
The Orwells
You and Me At Six
Arcane Roots
Tigers Jaw
Best Set of the Day: IDLES
IDLES is having one hell of summer. I saw them earlier in the year at Pohoda Festival in Slovakia and am enjoying their indie-rock raging so much this weekend that they are being bumped up to "set of the day."
Most Surprising Set of the Day: The Districts
If you have read all the recaps for 100 Nights of Summer (and I know you haven't), then you'll know I'm a sucker for indie rock. On my way to the bathroom, I overheard The Districts playing, went in to check them out, and stayed rapt for the next thirty minutes.
WTF Set of the Day: Rubber Bandits
If you happen to love shirtless Irish dudes wearing grocery bags over the heads singing classics like "I Want to Fight Your Father," then you'll love Rubber Bandits as much as I do.
Sunday (Bands Seen In Order of My Enjoyment)
Wolf Alice
Frank Carter & The Rattlesnakes
Grouplove
The Flatbush Zombies
Marmozets
Japanroids
The Black Lips
Glass Animals
Turbowolf
Eminem
Best Set of the Day: Wolf Alice
Some people like brunch and a newspaper on Sunday morning. I like waking up late Sunday to find that Wolf Alice is playing a secret noon-time set. There's nothing like loud, thrashing guitars to fire you up for the final day.
Best Surprise Set: The Flatbush Zombies
One of the joys of traveling is experience new cultures, unless it's European rap which, at least to me, sounds universally terrible. The antidote: a solid shot of American hip-hop, courtesy of The Flatbush Zombies straight out of New York City.
Best Moments
Best Use of Your Friends
During Two Door Cinema Club, I watched a group of friends surround a girl in a half circle. Curious what they were up to, I stood there watching — until she dropped her pants and just started pissing. I am confused whey they bothered with the pretense of a circle in the first place.
Best T-Shirt
Anybody who can ironically rock a Jar Jar Binks shirt, like the lead singer from The Pretty Boys, is going to make my tops list. He's wearing it ironically, right?
Best "Well Played"
I saw a woman's purse lying on the ground and thought I would retrieve and turn it in. When I picked it up, I realized that it was full of vomit. I used most of my hand sanitizer that night.
Best Middle Finger
At this point, I can probably put together an entire album of dudes giving me the middle finger. But yeah, this week, I'm going with Barely Incredible Hulk.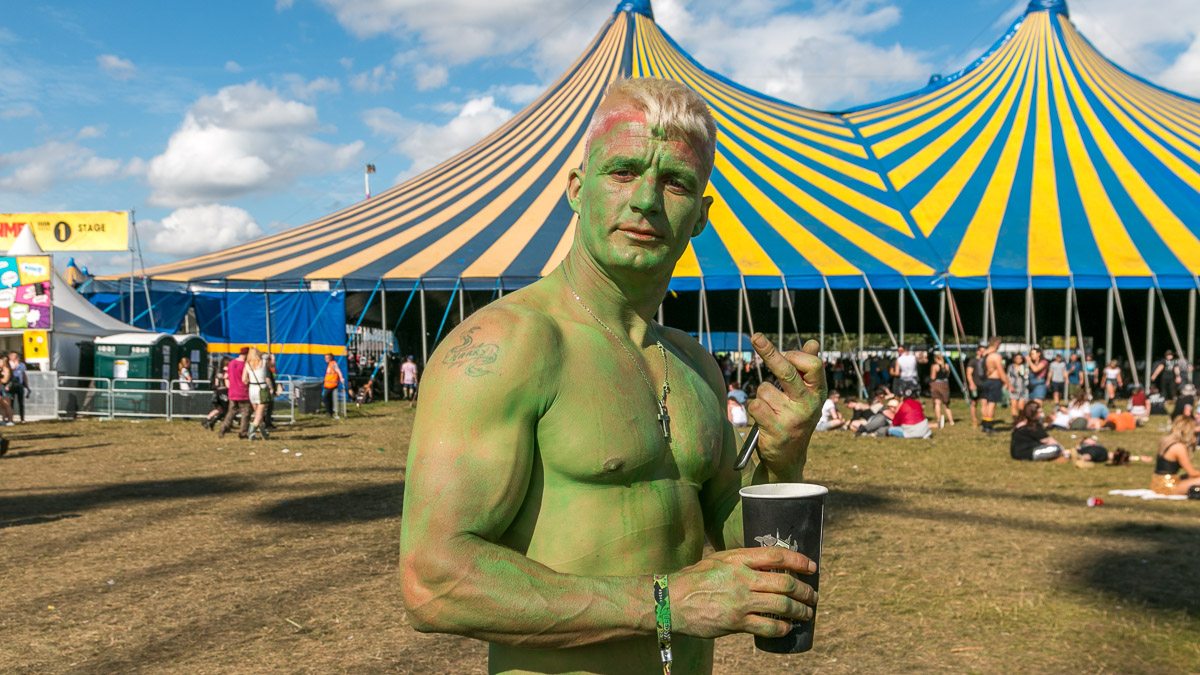 Best Quote: Rubber Bandits
"This is a song about my best friend Ivan, who happens to be six years old and not related to me."
Final Thoughts
Besides a tendency to light the campgrounds on fire and the aforementioned purse vomit, Leeds Festival really stands out for the sheer amount of music pushed out over three days. This is definitely one of the strongest rock festivals of the UK summer and well worth the effort.